NOW KNOWN as Quantegy Inc, the history of Ampex tape manufacturing goes back 40 years. Ampex itself was founded in 1947 and its first product was the M-100 tape recorder, but it was not the need for analogue tape that initially made Ampex interested in manufacturing tape. It was video. During the early days, while developing its audio recorders, Ampex worked closely with 3M on tape development. In 1956 Ampex introduced its 2-inch video recorder--the VR-1000. In order to improve the performance of the video recording system the company needed to accelerate the tape development programme. The easiest way to do this was to have your own tape plant so Ampex established a small task force to look into the feasibility of building a coating plant near its headquarters in Redwood City, California.
Having found a site and worked out the details the task force presented its findings to the company. The plan was rejected, the company believing that in order to get on line quickly it would be better to buy an existing facility and in fact they had already identified a small plant in Alabama that looked quite suitable. It was a somewhat bitter blow to those that had worked on the California project, they would soon leave and set up their own facility in California. The name of the fledgling company: Memorex.
The Alabama plant that Ampex bought was owned by John Herbert Orr, an American soldier in the Signal Corp who, at the end of the Second World War, had been involved in a serious traffic accident in Germany. According to Steve Smith, director of marketing at Quantegy, the story, as he understands it, is that Orr spent several months in hospital in Germany and apparently the nurse who looked after him had been a former BASF employee. During the period of his recovery they would talk about tape and tape manufacturing.
When he returned to his home town of Opelika in Alabama, Orr began to see the potential of magnetic tape and in 1952 opened his own tape plant. It was purchased by Ampex and became the Ampex Magnetic Tape Division in 1959. In 1990 the tape plant became a separate subsidiary and was renamed Ampex Recording Media Corp. In November 1995 Ampex sold the plant and it was reborn as Quantegy Inc.
'Unbeknownst to us,' explains Smith, 'one day after we had become known as Quantegy, 3M announced that they were leaving the magnetic tape business. Our initial entré to 3M was to get some capital equipment, plastic moulds, things like that for our moulding machines and also some automation equipment that they had.'
In fact in August 1996, Quantegy ended up buying all 3M's professional tape interests including its formulations and some of the equipment, but it had no use for the actual facilities.
'They are still actually doing some magnetic coating in Kansas and they still do some VHS tape which we purchase from them. All our VHS tape is made by 3M.'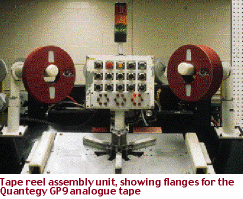 During World War II the Opelika site had been a prisoner of war camp and one of the original buildings--the doctor's surgery--still remains in the centre of the plant, protected, as a building of historical interest. According to Ken Holsenback, staff engineer, Audio Media Products, today the site covers 30 acres and contains half a million square feet of production area and offices. The production areas are spread over several buildings, the main ones being Plant 1 which is used for coating audio products, and Plant 2 which is used for video. There is also a third coating area, that is used specifically for R&D work. Along with the Mix-Prep building, Plant 1 is the earliest part of the facility, and, although it does not have the high tech, automated look of Plant 2, first impressions can be deceptive.
At the heart of Quantegy's tape manufacturing philosophy is consistency. Unlike some other tape manufacturers who strive to produce a better tape everyday--and inevitably there will be good and bad days--one of the main driving forces at Opelika is to keep each batch as consistent as possible. That may not sound quite so glamourous, but it is what professional customers expect and it is every bit as demanding and exacting a challenge, more so in some ways, as trying to produce batch to batch improvements at every opportunity.
'In our analogue product line,' says Smith, 'our customers have said once they identify a sound, a characteristic, runability--all the parameters analogue tape exhibits on a transport. Once they say that is something they will buy and use, they don't want us to change it. So our goal here, with all our products, is that once we have introduced a product, it doesn't change. 456 was introduced in 1974 and, except for one oxide change, because the oxide supplier stopped making the original oxide, except for that, it is virtually the same as it was 30 years ago. The opportunity was there to make it better, but what we have done is introduce new tapes. Ampex 499 was the upgrade to 456 and now GP9 is the upgrade to 499. We have been doing this about every 10 years.'
Analogue tape consists of three primary components: the base film, the magnetic coating and the back coating. The Mylar (polyester) base film is shipped to the plant on industry standard 660mm (28-inch) wide rolls. The coatings are manufactured on site from a variety of different ingredients depending on the application. The magnetic coating, for example, includes the magnetic oxide, binder, lubricants, whetting agent and solvent, and so on. For analogue tape there can be as many as 26 ingredients. Quantegy actually produces 57 different tape products using 16 basic formulae.
Contrary to popular belief few tape manufacturers actually produce their own magnetic particles. These are normally bought in from specialist suppliers.
The mixing of the ingredients is done in the Mix-Prep building. A critical part of the process is to ensure that the magnetic particles are evenly distributed throughout the binder. Another important consideration is to avoid breaking the magnetic particles as this generates non-magnetic particles, which reduces the sensitivity of the tape or creating clumps of particles, which increases distortion. Milling is the first stage of the process and this is done in large diameter drums containing either glass beads, steel balls or even stone pebbles. This can take up to 72 hours for an analogue tape. Video formulations tend to take less time as the magnetic particles are needle shaped and are therefore more easily damaged. The magnetic coating for video is also produced in individual batches whereas audio tape is treated differently.
Having the consistency of flour, the magnetic particles once mixed with the other ingredients, is stored as a slurry ready to be pumped to the coating area. For audio, typically 400 gallons of mix will be produced at a time and this 400-gallon mix is then added to a 1,500-gallon blend tank. This ensures that any variation, no matter how slight, is offset by the much larger quantity of mix already in the blend tank. This is important for consistency. It takes about a gallon of mix to produce a 2,500ft reel of 2-inch tape.
In order to start the coating process the mix has to be pumped from the Mix-Prep area to the coating room (Plant 1 or Plant 2). It is at this stage that the actual catalyst (hardener) is added. One of the first jobs is to apply the back coat. This is done as part of a single continuous coating process in Plant 2, but a separate back coat line is used in Plant1. Once the back coat has been applied to the base film the magnetic coating is put on the tape. Unusually Quantegy use a knife-coating process for all its analogue tapes.
'I don't think anyone else in the world, whether it's a small coating line in China making cassette duplicating tape or a brand new DVC video line--no one in the world uses a knife coating line,' says Smith. And the reason Quantegy uses a knife coater? 'We believe, sonically it makes the best sounding tape. It is the lowest technology, the oldest technology, but for the very thick coated analogue tapes it does it better than any other kind of coater. If you went to a coating symposium and you said you used a knife coater, people would be laughing because it is 40-year old technology. Wehave tried making our analogue tape on reverse roll gravure and slot die coaters, but they don't sound as good.'
So why has everyone dispensed with knife coating? It's an unsophisticated, manual process. A knife edge sits across the base film. The height at which it sits determines the coating thickness. When the system is running a puddle of magnetic coating collects behind the blade and it is the operator's job to ensure the puddle size remains consistent. One explanation as to why this may produce a better sounding tape is the fact that the mix really does flow onto the backing film rather than beginning squeezed onto the film as in the case of the more modern coaters.
Once the mix has been applied, the magnetic domains in the coating need to be aligned. This is done by passing the through a strong magnetic field that aligns the North and South poles of the magnetic particles down the length of the jumbo tape. Once this has been done the coating is dried by running the tape through a series of large ovens that vary in temperature from 150°F to 100°F. The length of these drying lines, and the speed at which the freshly coated tape travels, varies according to the product (audio or video) being made. Oven lengths vary between 200ft-500ft and the tape travels between 200ft-800ft per minute.
What is remarkable is that throughout the drying process the tape does not touch anything, but is suspended on a cushion of air as it travels the length of the oven.
Once dried the surface of the magnetic coating is calendered. This is done by passing the tape between two rollers, one made from stainless steel and with a mirror like finish, and the other made of paper or plastic with a measured amount of give in it. This literally irons the surface of the tape forcing the binder that has risen to the surface during the drying process back into the magnetic coating and imparting the characteristic gloss like finish to the recording side of the tape.
Although I said earlier that the first stage of the coating process is to apply the back coat, 478 is an exception. 478's back coat is very rough (this is to allow the air to escape quickly during winding so as to give even packing) and the roughness of the backing can imprint itself on the calendering process so the back coat is applied after the tape has been calendered.
At this point the jumbo reels are now ready for slitting. This creates individual reels of tape (known as pancakes) in one or the other familiar tape widths (2-inch, 1-inch, and so on). After slitting the pancakes are burnished using silicon carbide wipes. This effectively removes any slitting debris and ensures the tape is physically clean. Each pancake is then tested, in some cases throughout its entire length. The appropriate test chart then put in an envelope and included with each reel of tape once the pancake has been wound onto individual reels and cut to the appropriate length.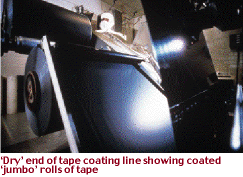 When it comes to professional products quality and reliable performance are clearly important issues and Quantegy has extensive test and measurement facilities to ensure the appropriate standard is maintained. The facilities include not only detailed chemical and physical analysis, but also listening tests and investigations at the submicron level with various atomic microscopes. In the Microscopy Lab, for example, it is possible to examine the smallest contaminants, things that could cause a dropout, and identify the nature and hopefully the source of the problem. Another area of interest is the surface roughness of the magnetic coating as this can affect head-to-tape contact and the frictional properties of the tape. In a lot of ways the Physical Lab is a torture chamber for tape, and, although Quantegy do not have a rack or thumbscrews they have the high-tech equivalents. It is here that production and R&D samples are heated, twisted, bent and pulled apart in order to discover the physical limitations of the base film and equally important the magnetic coating itself. Given that some videotapes have three separate coatings and in some cases have to negotiate a fairly tight and complex tape path makes these kind of tests so crucial. And if you are recording at the North Pole or in the Sahara then the conditions are going to be even more demanding. The ultimate test for tape, however, is probably the Galileo space probe. Way up there, in the most extreme of conditions, there's Quantegy tape happily recording what's going on at the edge of the galaxy.
Back in Opelika, a lot of the work done by the Chemistry Lab is concerned with quality control, both of incoming materials and during the manufacturing process itself. The staff is also involved in research work as well. One of the key responsibilities is to ensure that the correct amount of catalyst is being added to the magnetic coating. With as many as 10 different mixes being use on a shift this has to be constantly checked. Another important criteria is the mix viscosity. This has to be carefully monitored and it is also critical that the mix ingredients are probably dispersed. All these things are constantly being checked.
But even when all the scientific testing has been done it is in the studio where the ultimate test lies. What happens when a reel of tape is put on a tape machine? In order to find out Quantegy has its own well-equipped audio testing facility with an impressive collection of recording machines. These include a Studer A800 and A80; a couple of Ampex ATR-100s; Nagra-D and IVS; Otari MTR-90 (Series 2 and Series3); Ampex MM 1200; two Sony 3340 digital multitracks; a Panasonic SV3800 and a couple of Sony DAT machines; Tascam DA-88; Alesis ADAT recorder and finally a Sony BBU800/1610 CD mastering setup.
The first professional audio tape made by Ampex was simply known as Ampex A. This was replaced by 406 in 1968 which went on to become one of the best selling tapes of its time, however 406 did have some oxide shedding problems particularly with the larger widths (1-inch and 2-inch). The problem was addressed when Ampex introduced its 456 Grand Master formulation.
'456 was much more durable,' explains Smith, 'and it had this really "thumpy" bottom end that other tapes didn't offer. We believe this bottom end on 456, and 499 and GP9, is due to the knife coater.'
Like 3M's 996, Ampex' 499 Grand Master Gold could be pushed to high levels, but some engineers preferred 996. When Quantegy bought 3M some people wondered why the company did not continue with the tape.
'996 had a large following, especially in the UK, because it sounded different to 499. I could come into the factory and say, "Make this" and they can look at it and try to get close to it, but that's it. Ican't come in and say I was talking to Gus Dudgeon or someone and he said the tape had a real airy quality, but the bottom end was fat and the high end was bright and twinkly. These guys are just going to look at me and say, "What, are you nuts? What does that mean?"'
In fact Quantegy did try to manufacture 996, but it is in the nature of manufacturing magnetic tape, that even with the original recipe books, and after spending a lot of money, and working on the project for something like 18months, the essential sound of 996 still remained elusive.
'The outshoot of that was 3M had some good things in their recipes so we said why don't we see if we could get the best of both worlds. Use our manufacturing capabilities--knowledge of the industry--and the 3M recipes and see what we can get out of it. The result was GP9 which we introduced about six months ago.'
Although some tape companies constantly push new formats and high-tech developments Quantegy is much more choosy about what it manufacturers and for good reason. The company has experimented with metal evaporated techniques, for example, but the equipment has now been dismantled and sold off as Smith explains.
'Obviously Sony recognised metal evaporated as an opportunity. We see the newer technology of dual coating as much more of an opportunity for some of the newer products such as DLT 7000, AIT or DVC Pro. Most of these are dual coated--ME hasn't really taken off.'
Smith also raises another important point. No longer part of Ampex, the company is no longer involved in initiating or promoting the introduction of new recording formats.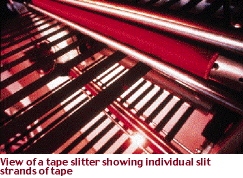 'Obviously Sony has excellent insight into that because they produce both tapes and machines. Fuji works very closely with Panasonic. Iwould say Maxell is in the same situation as us, and BASF is that way also. BASF is the world's largest coater of magnetic media. They make a huge amount of VHS and cassette duplicator tape. We don't have these product lines, so from a coating standpoint, among the professional companies, we are definitely the smallest. So when we decide to make a new format the format has to be successful.'
Quite a number of tape manufacturers, however, have got involved in making recordable optical media like CD-R, but Quantegy has made a deliberate decision not to go down this road.
'Optical is dye technology and that is quite different technology to what we currently have. We kinda pick our shots carefully and we are definitely not at the leading edge of technology innovation here. The markets has to get fairly large before we have an opportunity to get into them.'
Sooner or later, with the growing use of digital recording techniques the question has to be asked: How long will professional quality analogue tape be available? Will there come a point in time when the amount of tape being bought is just too uneconomical to produce?
'That won't be our decision; it will be the oxide manufacturer's. They are the ones that have the economy of scale. We can make one reel of tape a day. We could coat a jumbo a month and that probably wouldn't cost us a whole lot. And we are not looking to rip out Plant 1 and put two new metal evaporated coating lines in or anything like that. We have all the capability and capacity we need for video in our new plant. So the day after we make our last reel of analogue tape we will probably just put a big lock on the door and say, it's finished.'
For the time being at least, globally, there is still a big demand for oxide. Cassette duplication tape is still a huge user of analogue oxide, and so to is VHS, although this uses a slightly different type of magnetic particle and while studios may be using less analogue tape there is still a large demand for it in other areas of professional recording.
'The business was very large and continues to be quite large. Some of the bigger users of analogue tape include Third World radio. Ethiopian Radio, Indian Radio and Turkish Radio--these are all customers of ours and they use a lot of tape. So if a professional user says, "Gee, I used to use 200 reels of 2-inch a month and now I'm using a 100 or 75; your factory must be closed half the time". Well that's not true. Since 3M left the market we are making as much analogue tape as we ever have. But now the analogue market is declining. There is no question of that. So I can't say there is growth or anything, but our business hasn't declined that much and looking to the future I would say it is good for at least 10 years. We have just completed a 7-year plan and there is a lot of analogue business in that. So if you are using an analogue machine and you want analogue tape you can at least plan on 7 years.'